The Challenge
Our nation recognizes that we must drive advances in science, technology, and innovation to assure that the nation's military and homeland defense remains without peer and able to respond effectively to new challenges enabled by the globalization of science and technology.
Our military and national intelligence communities have determined that one of the greatest worldwide threats to our security in the 21st century is from asymmetric warfare. These threats are disproportionately serious to megacities with populations greater than 10 million, areas otherwise known as dense urban environments.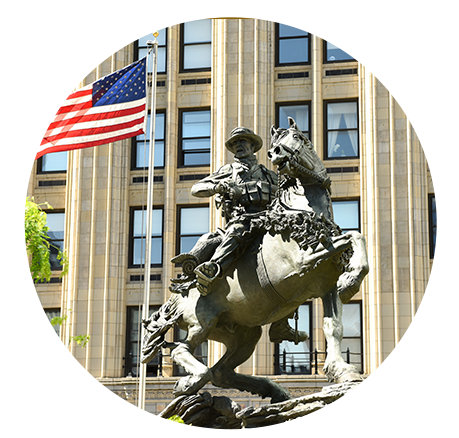 About Us
The National Center for Urban Operations is a nonpartisan, nonprofit research organization dedicated to providing expertise and insights to leaders operating in dense urban environments in fulfilment of national security, public safety, and urban resiliency goals.
We unify the community of practice in order to generate technology, material, educational, training, and conceptual solutions to the emerging challenges associated with the asymmetric threats and complex characteristics of operating in dense urban environments.

John W
CEO
General Officer (R)
Research Development,
Technology and Acquisitions
30+ Years of Service

Pat
Director
Special Forces Colonel (R)
Honorary FDNY Chief
30+ Years of Service

Joe
Deputy Director
Special Forces Sergeant Major (R) Counterterrorism Expert
30+ Years of Service

John S
Senior Fellow
Infantry Major (R)
Urban Operations Expert
20+ Years of Service

Jose
Operations Officer
75th Ranger Regiment
Senior Leader (R)
Subterranean Expert
25+ Years of Service

Sal
Fire Service Fellow
FDNY Senior Firefighter
25+ Years of Service

Clay
Operations Fellow
Veteran 75th Ranger
Princeton Structural Engineer

Stephanie
Research Fellow
Columbia Master of Public Affairs 
Our Organizing Principles
Whole of Nation
Ensure centralized direction and decentralized execution to solution development in a "whole of nation" approach, including but not limited to the leveraging of diplomatic, intelligence, military, and economic means.
Technology Acceleration
Accelerate and insert technology into the hands of security professionals to ensure decisive advantage.
Partnerships
Partner with the city of New York as a Virtual Urban Training Center (VUTC), Center of Excellence (CoE), and "smart city" to facilitate education and training of practitioners; validation of technology; and
dissemination of lessons learned globally.
Unity of Effort
Solidify Fort Hamilton, Brooklyn, New York as a mission command center for federal, state, local, and private collaboration.
Our Laboratory 
New York City contains all the elements of a dense urban environment: high population density; an unparalleled interagency public service team; air, land, and sea mobility corridors; a diversity of high commercial and low residential building types; a complex subterranean transportation and utility system; critical transportation nodes; and a sophisticated communications and cyberinfrastructure. As such, it is an ideal real-world laboratory to test and evaluate new and disruptive technologies as soon as they emerge- and before our nation's enemies can use them against us.
Our Solutions
We help inform our nation's leaders as a thinktank for strategic thought and problem-solving. Education, leader development, and training will enhance the preparedness of those responsible for operating in this environment and related domains. Our understanding of and access to technology and material solutions will provide teams the necessary capability required for each unique operational context. 
Our Network
Our network consists of public-private partnerships with the government, academia and industry enterprises. These relationships provide unique opportunities for consultation and collaboration with the world's finest and most experienced first responders, anti-terrorism forces, and incubators – allowing for real-world testing, analysis, and evaluation of new technologies and applications.