Columbia University School of International and Public Affairs Urban Resiliency Capstone Project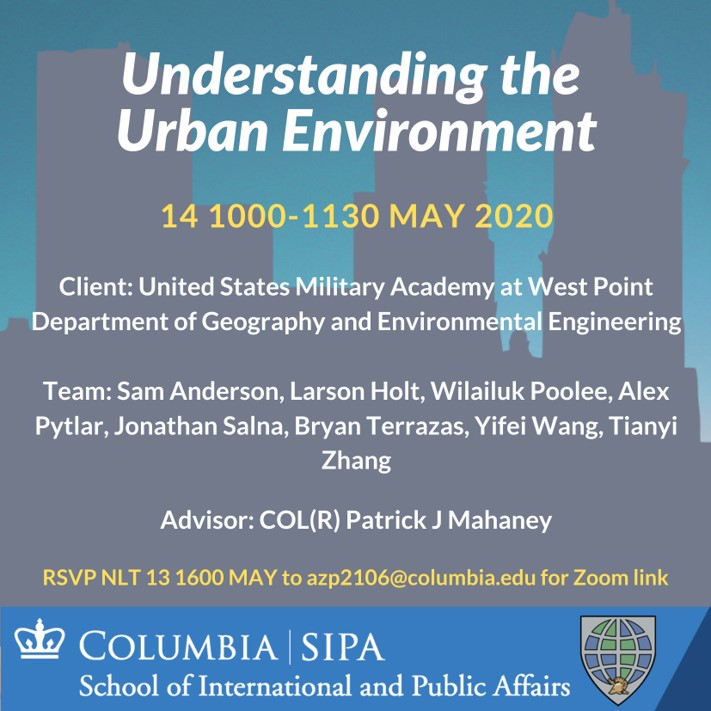 The National Center for Urban Operations (NCUO) provided faculty advisory and senior mentorship for a multidisciplinary team of students conducting a capstone exercise to explore the future dense urban environment from a resiliency perspective at the Columbia University School of International & Public Affairs (SIPA) in support of the United States Military Academy (USMA) at West Point's Department of Geography and Environmental Engineering (GENE). The purpose of the exercise was to develop a metric and visual resource to help explore and understand stability in a diverse range of environments. In response to this request, the GENETICS (Governance, Economic, Natural Environment, Energy, Technology, Communication, Infrastructure, Culture, and Security) Framework was developed to help inform decision-makers' response to crises in these environments and prioritize challenges and resources appropriately.
More information about this exercise can be found here.
The exercise occurred throughout the spring semester, from January to May 2020.

Unclassified / /  Distribution A Public